I am no longer at LIPN. Please see
the home page
for my current situation. —Luca Saiu.
Luca Saiu — my time at LIPN, Institut Galilée, Université Paris 13
I worked at LIPN (Laboratoire d'Informatique de l'Université Paris-Nord), Institut Galilée, Université Paris 13, between 2007 and 2012.
I have been employed as a research engineer for the first six months, working on Marionnet with Jean-Vincent Loddo; then I started my PhD under the direction of Christophe Fouqueré and Jean-Vincent, under a three-year grant from the French Ministry of Higher Education and Research; finally I have been a temporary teaching and research associate (Attaché Temporaire d'Enseignement et Recherche) for two years, financed by LIPN.
During these years I taught, wrote papers and a PhD thesis, gave talks, learned French, made friends, quit smoking. Many of the people at LIPN were good to me. I will miss them.
Here is a picture of my former LIPN office, without me.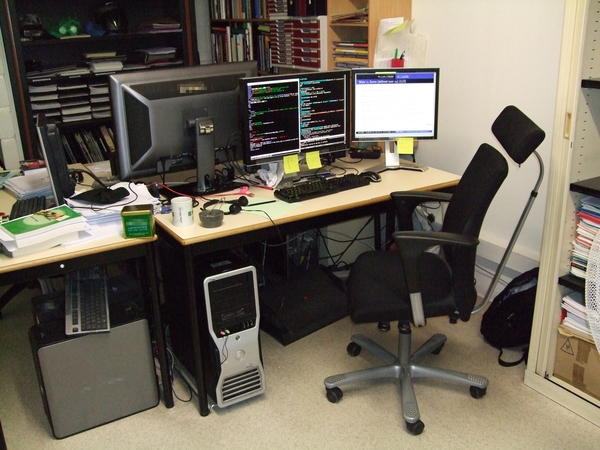 ---
My teaching at LIPN
The web pages for the courses I've taught at LIPN are accessible from my old teaching page, among others.
I don't plan to update them, and external links will break. I hope they will be useful for other people nonetheless.
Notice that I've also taught or I'm also teaching elsewhere.
---
(Some) publications
You can find my papers and my PhD thesis in my publications page.
---
My talks
Most of my talks between 2007 and 2012 were given under the aegis of LIPN.
---
---

Luca Saiu
Last modified: 2018-09-30
---
Copyright © 2012, 2018 Luca Saiu
Verbatim copying and redistribution of this entire page are permitted provided this notice is preserved.